Clearbite cost, effectiveness & details | Clearbite clear aligners @FACETS by award winner DR SEBY VARGHEESE
---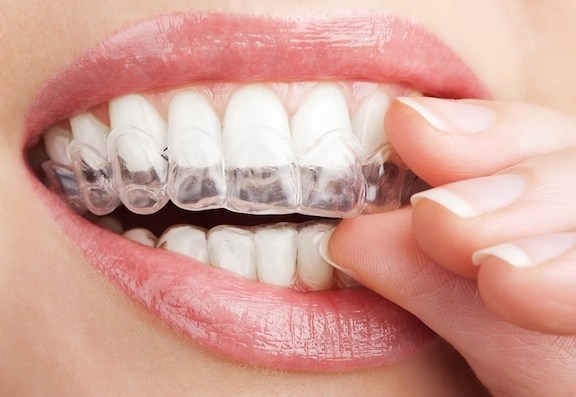 ClearBite is a brand of Invisible Aligners available at Facets Dental, Kochi in Kerala. They are designed to straighten teeth and correct Smiles without the need for regular orthodontic braces.
ClearBite Clear Aligners are made of a clear, durable plastic material and are custom-fit to each patient's teeth.
ClearBite Clear Aligners are designed to be comfortable and discreet, allowing patients to straighten their teeth without any discomfort and self-consciousness.
Using advanced 3D imaging technology, ClearBite Clear Aligners will create sets of clear aligners that gradually move your teeth into the desired position. Each set will have to be changed every 2 weeks.
For a perfect smile & a quick result, you should wear your aligners for 20 to 22 hours per day, throughout your entire treatment.
The total length of treatment will vary depending on the complexity of each case, but typically lasts between 6 Months- 2 Years
ARE CLEARBITE CLEAR ALIGNERS EFFECTIVE?
Yes, ClearBite Smile Aligners can be effective in straightening teeth and correcting bite issues for many.
The effectiveness of ClearBite Smile Aligners will depend on your specific dental needs and goals as well as how disciplined you are with wearing the teeth aligners as directed by your Dentist.
It is also important to note that not all Smile Corrections or Bite Problems can be corrected with the help of ClearBite Invisible Aligners, in certain cases, Orthodontic Braces or Orthodontic Appliances will be required to get a beautiful perfect smile!
DO CLEARBITE CLEAR ALIGNERS PERMANENTLY WORK?
Yes, ClearBite Invisible Aligners can provide permanent results but In order to maintain your perfect smile, you will need to wear Retainers.
Retainers can be either removable or fixed, and are worn to hold your teeth in place to prevent them from moving back to their original position.
You will typically need to wear your Retainer for a certain amount of time each day or week, depending on your teeth position and oral habits.
You will also need to maintain good oral hygiene and visit the dentist regularly for checkups and cleanings.
Failure to properly maintain good oral hygiene can lead to problems such as tooth decay, gum disease, and other oral health issues that can impact the long-term success of the treatment.
For More Information CALL US NOWW!! @9020160160
WHAT IS THE COST OF CLEARBITE CLEAR ALIGNERS?
Usually, the Clearbite dental aligners price in India ranges between INR 45000 to 150k only.


WHY SHOULD YOU CHOOSE FACETS FOR THE BEST QUALITY CLEAR ALIGNERS?
Facets Dental Clinic is a highly reputable and experienced dental clinic in Kochi that offers high-quality ClearBite Invisible aligners for Invisible Braces Treatment.
Experienced Cosmetic Dentists & Orthodontists: We have a team of experienced Dentist's who are experts in providing teeth aligner treatment. They have a thorough understanding of Invisible Aligner technology and can provide personalised treatment plans based on your needs and goals.
High Quality Clear Aligner Brands:We provide High Quality Clear Aligner Brands Only as we are tied up with India's Biggest & Best Clear Aligner Providers such as ClearBite, Clear Path, Invisalign, Illusion,etc.
Customised Invisible Braces:We create customised Clear Aligners that are specifically made for your unique dental needs and to achieve your desired result with the help of advanced 3D imaging technology to create a precise and accurate digital model of your teeth.
Convenient Locations: Our Clinics are conveniently located in Kadavanthra, Panampilly Nagar & Fort Kochi, making it easy for patients to access high-quality orthodontic care without having to travel far.
Affordable Pricing:We offer competitive prices for High Quality Smile Aligner Brands, making treatment accessible to all. We also offer flexible payment plans that can help you manage the cost of treatment. We provide payment plans that you are comfortable with.We understand that the cost of Orthodontic treatment can be a concern for many, and We strive to make treatment accessible to as many patients as possible.
For a In depth review on Toothsi Aligner visit our webpsge = https://www.thefacets.com/makeo-toothsi-aligners-price-Details-Review-at-facets-kerala
CAN YOU SLEEP WITH CLEAR ALIGNERS?
Yes, It is safe to sleep with Clear Aligners or Invisible Braces.
Typically, you have to wear the aligners for 20-22 hours per day, removing them only to eat and brush your teeth.
Wearing the Invisible braces consistently and as instructed by your dentist is crucial for achieving the desired treatment result in the shortest amount of time possible.
CAN I BRUSH MY ALIGNERS WITH TOOTHPASTE?
Yes, you can brush your invisible aligners with a non-abrasive toothpaste and a soft-bristled toothbrush to avoid scratches or damage on the surface of the transparent smile aligners.
Do not use hot water when cleaning your aligners as hot water can cause them to warp and lose their shape.
You can also use a cleaning solution specifically designed for aligners, such as Retainer Brite or Invisalign Cleaning Crystals, to help keep them clean and free from bacteria.
CAN CLEARBITE ALIGNERS CHANGE THE SHAPE OF YOUR FACE?
Invisible Clear Aligners like ClearBite can change the appearance of your teeth and overall facial balance, but they are not designed to change your facial features or alter your natural appearance in any significant way.
Clear Aligner Treatment can sometimes create the illusion of a change in facial shape due to the improvement in tooth alignment.
ARE CLEARBITE ALIGNERS FASTER THAN BRACES?
The speed of the treatment with ClearBite Smile Aligners Vs. Regular Orthodontic Braces will ultimately depend on the complexity of the teeth problem & whether or not the patient has worn the invisible aligner for 20-22 hours per day or less.
FAQ
Q. How painful are Clear Aligners?
A.
Very mild pain & discomfort can be caused while wearing any new dental appliance. This is also common with leading brands of clear aligners such as "Invisalign" & not just with regular brands alone.
This is because initial tooth movement will cause minor pain.
But, unlike traditional braces, Clear Aligners are less painful & much more comfortable to wear. In some cases they correct teeth alignment much sooner than orthodontic dental braces.
If you're worried about pain, Clear Aligners are always the better option than fixed regular braces which are much more uncomfortable & painful.
Please note that individual experiences vary, and any pain and discomfort with Clear Aligners would most likely last only for the first few days of wearing a new aligner set. The aligner set needs to be swapped out for a new set every 2 weeks.
Experiencing temporary pain in just one tooth is usually a sign that your clear aligners are being effective by gradually moving your teeth.
Any discomfort will go away within a few days. Avoid chewing on the painful tooth till the pain settles.
You can also take over-the-counter pain relief medications during the first few days when pain is the most severe. In case of any allergy, please ask your dentist for an alternative medication.
Any other discomfort in the fit of the tray that is causing you pain or discomfort can be checked by the dentist & corrected to make it more comfortable for you.(sharp edges, loose fitting, very tight fitting, rough surfaces)
Q. Why are Clear Aligners so Expensive?
A.
1. Shorter Duration of Treatment for Certain Cases!
If you have a mild case of misaligned teeth, then the length of your treatment is highly reduced with Clear Aligners in comparison to traditional braces which would considerably take much more time & effort from your end.
2. Use of Modern Technology for a Customized Treatment
Advanced technology is a requisite when making perfectly-fitting customised clear aligners. The use of Advanced technology directly increases the cost involved in fabricating them.
You also have the option to view the end result of your treatment even before starting the treatment.
Advanced Intra Oral scanners are also used to create an exact replica of your mouth in a 3-D printed model which enables the dentist to suggest an effective treatment plan.
Aligners are fabricated with the help of 3D printing technology, each aligner is personalised and made according to each patient's requirement.
3. Virtually Invisible!
They are absolutely invisible to the human eye, thus giving you a much more discreet treatment than regular dental braces. This is one of the major perks of using a clear aligner.
4. You are Free to Eat what You want!
With clear aligners there is no particular diet restriction that you have to follow unlike with dental braces. This is because with Clear Aligners you can now remove them before grabbing a bite from a juicy apple!
Clear Aligners are much more comfortable to wear & use practically in comparison to Orthodontic dental braces, this is why the cost of clear aligner treatment is much more than other dental appliances.
Q. What is the success rate of Clear Aligners?
A.
For Clear Aligners to be a success, you should surely wear them for 20-22 hours per day.
You can remove the clear aligners in few instances only, such as:
While eating food or drinking beverages (especially coloured and hot beverages)
Before Brushing or Flossing
While cleaning them (Do not clean them with hot water as it can distort them which in turn can affect its effectiveness)
How complex your dental issue is will determine how successful Clear Aligner treatment will be for you. The treatment will definitely take longer if you have complex crowded teeth or bite problems.
A study has also shown that tooth movement could be affected by factors such as Age & Sex.
The study concluded that the rate of tooth movement increases from ages 35-50 and that the tooth movement between the ages of 50-70 did not decline for women in the same way as it does for women.
This shows that Clear Aligner treatment is the most effective & successful for the age category 35 years - 50 years.
Q. How much does Toothsi Aligners cost?
A.
MakeO Toothsi easy plan costs ₹ 69,999 or more, if you have a simple dental issue.
MakeO Toothsi prime plan costs ₹ 79,999 or more, if you have a complex dental issue.